Based on the well-loved concept of a miniature snowglobe with flakes tumbling around a picturesque scene, British-based JBL Leisure has created a patented giant version, which recreates that snowy scene we all remember… but this time, you too can be a part of the scene, as the globe is large enough to fit both children and adults alike!
Besides the obvious fun factor this attraction provides, The Giant SnowGlobe also provides the perfect bespoke opportunity to display your company's branding and/or event message.
The Giant SnowGlobe backdrops can be customised to display any scene you wish – a beach, a cityscape, an underwater world, a forest, an alien landscape. The only limit is your imagination.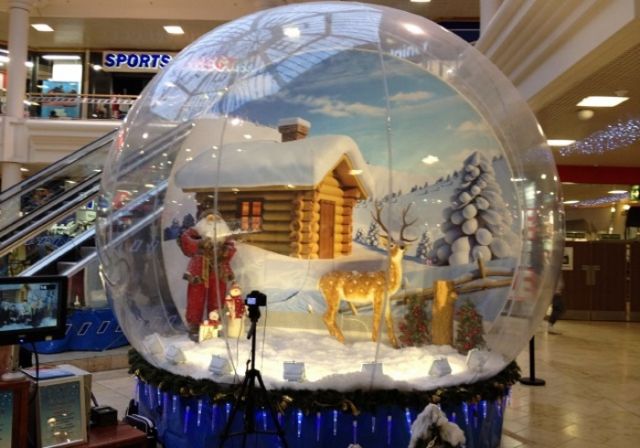 Reasons to choose The Giant SnowGlobe for your next splash:
Unique attraction
Showstopping centrepiece
Bespoke element
Adaptability
Unforgettable experience
Entertainment that doubles as advertising
The Giant SnowGlobe is great for:
Product Launches
Corporate Functions
Shopping Centres
Exhibition Spaces
Private Parties
Weddings
Public Events
TV & Film
Marketing and PR
Retail Displays
Our Giant SnowGlobe measures 4,5m in diameter  –  there's room for everyone!
Photograph your staff; suppliers; clients; shoppers; visitors; children and families in The Giant SnowGlobe – and send them home with the memory of a fantastic experience!
We HIRE and SELL Giant SnowGlobes.  We are proud to represent JBL Leisure exclusively in Southern Africa.