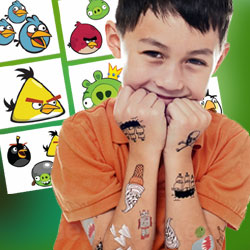 Temporary tattoos are a fun addition to any event or occasion.  Nothing gets your brand across more directly than your customers 'wearing' your logo on their arms and cheeks!  Temporary Tattoos create conversations about your brand.  Choose from a variety of sizes, to get the right look and style.  Simply send us your logo or artwork and have beautiful, high quality, temporary tattoos, designed and delivered to you.
We provide temporary tattoos for every type of organisation, from large corporations including major fast-food restaurants, cosmetic companies, book publishers and foundations, to professional sports teams. But, we also provide temporary tattoos for local soccer clubs, community groups, primary and high schools. Every job we get is handled the same way, with top-notch professionalism.
CURRENTLY IN STOCK
 SA Flag Tattoos
Size 38mm x 50mm
50 Tattoos                    R8-50 each
100 Tattoos                  R8-00 each
200 Tattoos                  R7-50 each
500 Tattoos                  R7-00 each
1000 Tattoos                R6-50 each

Larger quantities          POA

Prices exclude VAT and courier/postage.

Bridal Party Tattoos
Size 102mm x 152mm
R18-00 each (12 tattoos on each card).
Wholesale price available for 12 cards or more.Prices exclude VAT and courier/postage.
Frequently Asked Questions About Temporary Tattoos
Are temporary tattoos safe on the skin?
All of our temporary tattoos are FDA-approved for safe transfer onto skin.
How long do temporary tattoos last?
Our high quality temporary tattoos last between 3 and 5 days, even with daily exposure to showers, swimming and ocean surfing.
Our tattoos have a five-year shelf life.
Application?
Temporary tattoos apply with a damp cloth in 30 seconds.
Removal?
They come off at anytime with rubbing alcohol, soap and water, hand sanitizer or baby oil.
Kid-safe ink?
We only use FDA-approved vegetable-based inks. These inks are not the same as those used for printing on paper.
Ordering
Lead Time:
Our temporary tattoos are imported from the USA.  Delivery is three to four weeks from approval of artwork.  Artwork submissions by 14h00 on Fridays are guaranteed to ship twelve days hence.  These usually arrive at our offices within 7 – 8 working days.  Courier to you is another 3 – 4 working days.
Prices:
Due to fluctuating exchange rates, quotations are done on a request basis only.  There is no charge for the set-up of your logo.
Image Files:
We work with .jpg, .eps, .tiff, .pdf or any image, even Microsoft Word documents. But if you really know your stuff, send us a .PSD at 300dpi or an .EPS, with all colours defined as CMYK.
Can you help me with my design?
Yes, our art department would love to help! There is a nominal design fee, but we will work with you to make sure it is exactly what you were hoping for.
Can I get a proof?
Yes, our art department can create a PDF proof of your image at no additional fee.  Each proof is sized appropriately and shows exactly how the tattoo will look on the skin.
Temporary Tattoo Standard Sizes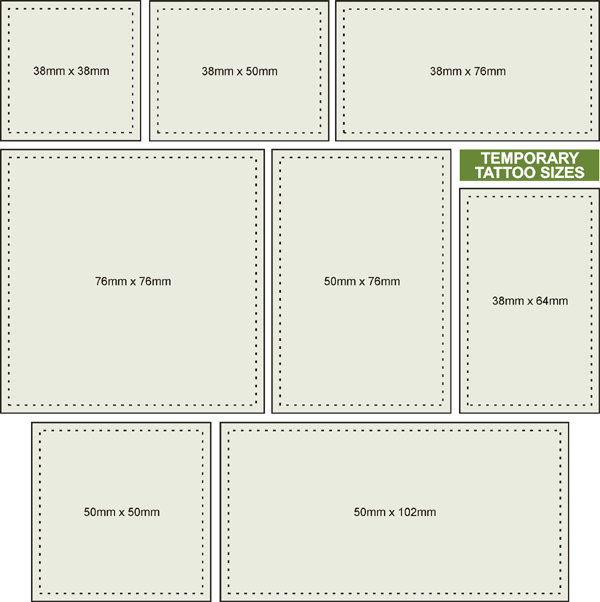 (larger sizes available on request)